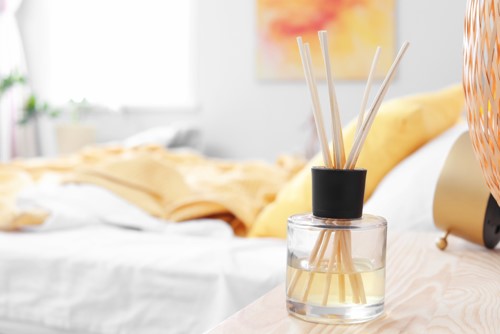 Photo by New Africa via Shutterstock
As a homeowner you know there is a lot of upkeep that goes into maintaining a nice home. From weekly cleaning to monthly home maintenance, you put in time, money and effort to give yourself the home life experience you desire. The best living environment to come home to is one that is clean and smells fresh. Try these three easy products to help your home on a daily basis.
Scent Diffusers
Maintaining a home that smells good can be tough. Especially if you live with a family or housemates. There are a lot of different scents, messes, cleaning products and more going on at the same time. Scent diffusers come in all different styles and sizes and can be used throughout the house to give your home consistently fresh and odor-free air. Try a refillable spraying deodorizer in areas of high traffic, or in the mudroom where you leave all the shoes. Use melted wax diffusers in living rooms and bedrooms to add a touch of décor while emitting scent. 
Finally, use oil diffusers in the bathroom to fight odors.TIP: If you can purchase different styles of diffusers that can support scents by the same brand(s) you can use the same smells throughout the house, or at least in adjacent rooms where two conflicting smells might overlap and combine poorly.
Toilet Tank Tabs
One of the biggest pains in keeping a house clean is the toilet. It is an area that always needs attention, especially if you live with others. While you'll never be able to skip the weekly bathroom cleaning, using cleaning tabs in the toilet tank will help immensely on a daily basis. These tabs contain chemicals to combat bacteria, hard water and stains.
You can normally buy a small pack that lasts a couple months or get great deals on bulk packs that will last you all year. Simply drop the tab in the back of the tank, and the toilet gets a little extra cleaning help with every flush. This will help keep the bathroom cleaner and smelling better every day.
Robot Vacuum Cleaner
While this purchase can drastically vary in price, it is an excellent investment that saves you time while helping maintain the home. You can spring for an expensive robot vacuum, but there are plenty of affordable options as well. Having a device that cleans the house while you're gone or working on other projects is a huge help.
If you have children, pets or housemates it cuts down drastically on the dirt, debris and hair floating around the place. With the help of a robot vacuum you can reduce your sweeping, vacuuming and mopping needs without sacrificing cleanliness.
By making smart home purchases, you can increase your quality of living without breaking the budget or your back cleaning. Ask your real estate agent for advice on the best purchases to keep your home beautiful for your next showing.