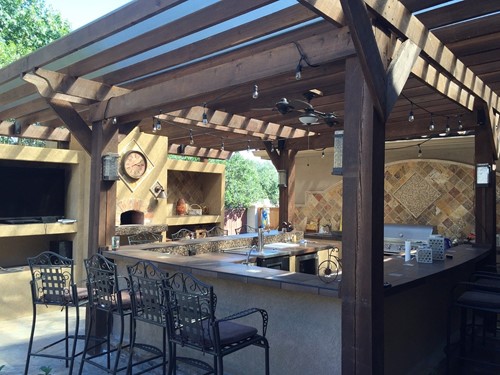 Image by toddpharistx from Pixabay

If you've been thinking about adding an outdoor kitchen to your luxury home, it is a good time to start planning. Outdoor kitchens offer a great place to prepare and enjoy meals outdoors when the weather is pleasant. You'll find that there are many options and features available to build out the perfect space for you. While you're working on designing yours, keep the following 2020 outdoor kitchen trends in mind. 
Multiple Cooking Options
An outdoor kitchen isn't just a place for you to fire up the charcoal you can create a space that allows you to prepare an entire meal outside. This means introducing more than one cooking option into your space. Once you've settled on a grilling surface and fuel source, select a stovetop burner and a traditional or specialty pizza oven to complement your setup.
Cabinets and Cupboards
Having to go in and out of your home to retrieve dishes, pots and other items for cooking and eating can be an inconvenience. Including high-quality cabinets or cupboards in your outdoor kitchen means you'll have everything you need within easy reach. This year's trends include stainless steel cabinets and cupboards. These provide your outdoor kitchen with a sleek, modern appearance while also offering a place for storing everything you'll need. 
Kitchen Islands
Kitchen islands are usually thought of as an indoor feature, but they're making their way to outdoor kitchens as well. Putting an island in your outdoor kitchen provides extra prep surfaces and also acts as a place for you and your family or guests to socialize. Depending on the design of your kitchen island, you may also use it as a primary outdoor dining area or extra dining space if needed.  
More Refrigerator Options
Refrigerators are convenient to have as part of an outdoor kitchen, because you can keep ingredients and beverages readily available. Instead of having a standard refrigerator as you may choose for an interior, consider some more specialized options that are growing in popularity. More luxury homeowners are choosing to add an outdoor refrigerator that include ice makes or specialized models that specifically accommodate beverages. Drawer-style units instead of single-door models are more energy-efficient than single-door refrigerators, and they make it easier to keep fridge items organized. 
If you'll be preparing to sell your luxury home or buy a new one in the near future, contact us today.